Mobile Navigation Service "its-mo NAVI" (mobile, Android)
Mobile Navigation Service "its-mo NAVI" (mobile, Android)
By train, on foot or by car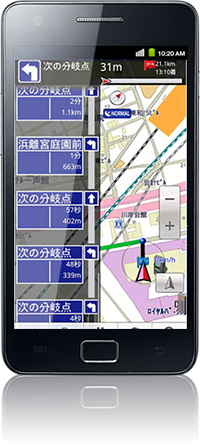 Car Navigation Level Service
Through courses of automotive field tests, we have realized the 3D information necessary for car navigation including "Intersection Illustrations", "JCT Images" and "Lane information", as well as display of real time VICS information. Just like a real car navigation device, users have access to traffic information, voice guidance and intersection guidance.
Door to door navigation including trains & planes
Find closest station to your destination or starting point, then search the door to door route including such transportation modes as train and airplane.
Route Guidance Maximizing the Pedestrian Network
Search recommended routes ideal for that day's weather and/or the users' attitude by searching "Most Roofs Route", "Least Stairs Route" and other routes found by utilizing ZENRIN's own "Pedestrian Network Data".