Fleet Management System
Fleet Management System has been developed for companies that need their truck/vehicle to be managed and monitored for better efficiency. Over the years, along with the advanced telematics technology, Fleet Management System has developed into next level more than just a tool to locate the vehicle by GPS. InfoTrack, a group company of Zenrin DataCom, is currently offering this service as a leading player in the market, starting from Singapore and India all the way to South East Asia, Middle East, and Africa. Zenrin DataCom and InfoTrack work together to pursue High Quality yet Affordable Service for those who require advanced system solution.
InfoTrack's Fleet Management System allows client to monitor their vehicles real time on the computer's monitor. Using our solution results in reducing operation costs and improving driver's driving habits while catering to various needs of your customer.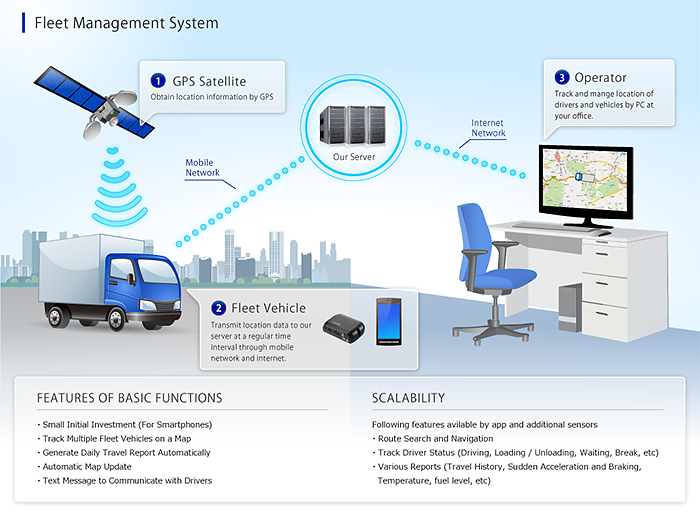 The information stored from the installed device in the vehicle will be sent to the server by mobile network and internet. Users can simply monitor the information they need through smartphone and PC. Users can always set the time interval to according to their desire. When to send what kind of warning can be set by the users as well.
Standard functions are as shown below.
Know The Vehicle's Location (Telematics Mapping)
Able to track the vehicle's location on the map and status of the driver and the vehicle. Users can have peace of mind from vehicle to be stolen as well. Able to replay the driven route anytime when you need.
Managing Driver's Task (Driver's Status)
Driving, Loading/Unloading, Resting, etc... These status can be monitored in real time.
Driving Habits (Driving patterns)
Able to monitor driver's driving habits that leads to improved fuel mileage and reduced reckless driving.
Reporting Function (Reporting)
No more wasting driver's time in making reports! Simply printing out the report that contains such information as task and route record, at last, just sign and go home.
Geofencing Technology
Everytime driver get away from the route, system will report the situation with its warning function. No more losing in track.
CO2 emissions
Able to monitor if the vehicle meets the government regulations.
Vehicle Service and maintenance - Able to plan the schedule ahead based on vehicle's mileage and usage.
We also have various service-offerings for different industries.
Taxi Dispatch System
Dispatch system which provides taxi to the client in faster time based on taxi's location.
Emergency Dispatch System
Management system for emergency vehicle such as ambulance.
Employee Transport System, School Bus Management System
This solution helps to provide safety to the employees when they commute to and leave the premises. It monitors when and where employee enters the vehicle and left the vehicle. We also have student's version for this solution.
Cold Chain Management System
Complete solution for those who want to manage the refrigerated or reefer container. Monitor the temperature inside the container WIRLESSLY. No more drilling holes into the container.